Advantages of waterproofing and lining a pool with a reinforced membrane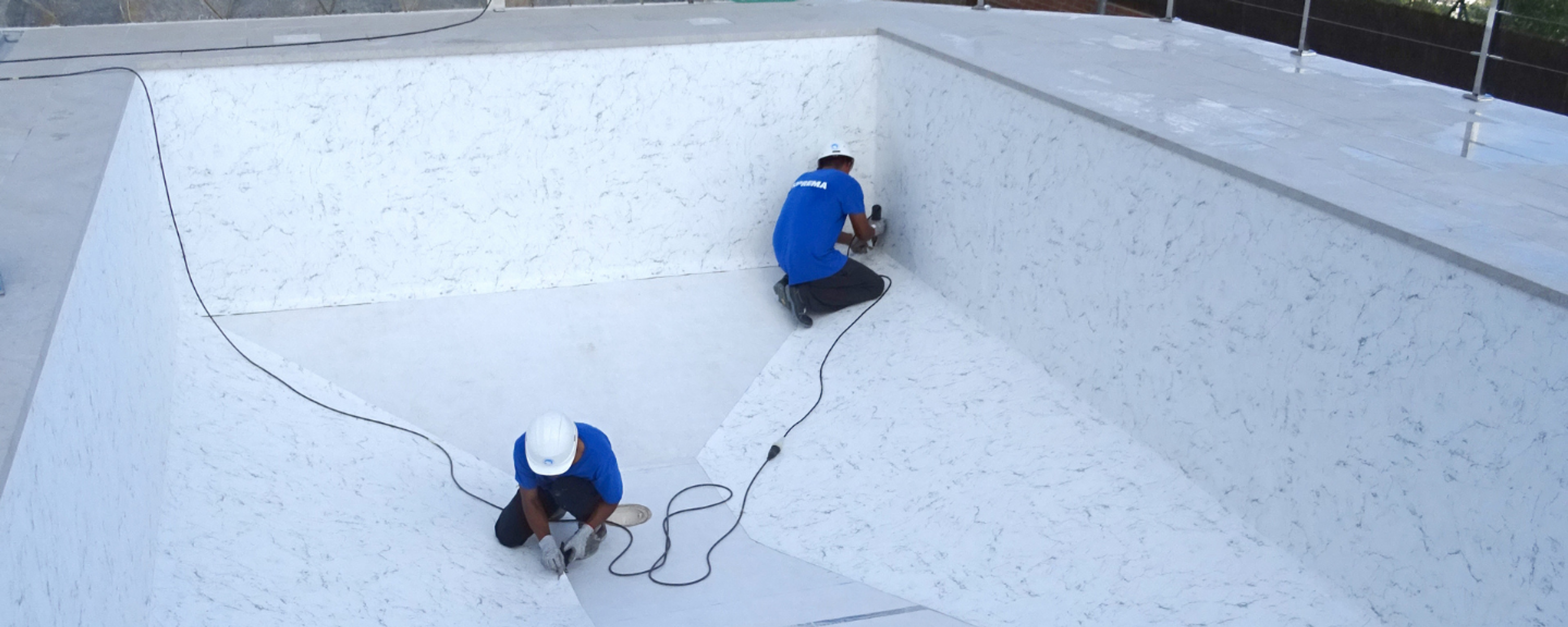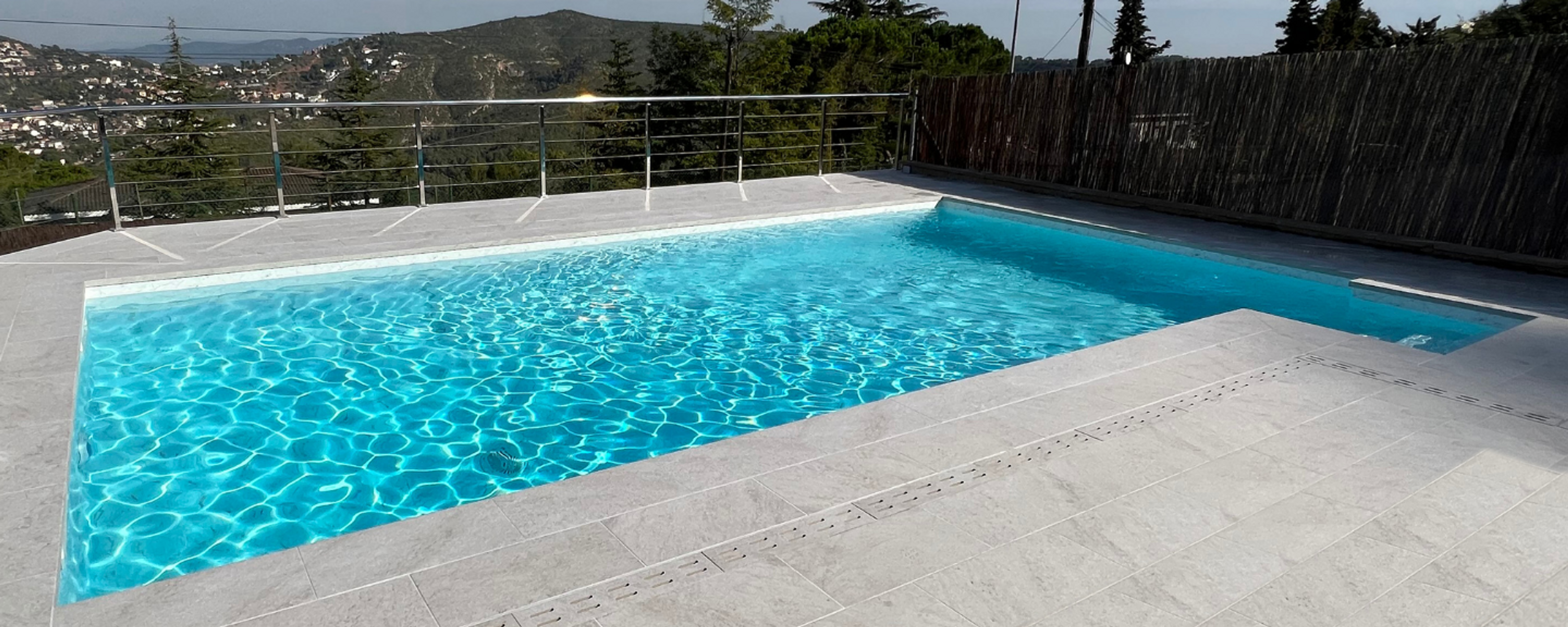 What is a reinforced membrane?
A reinforced membrane is a lining that has been designed to waterproof, protect and decorate private/public swimming pools and water parks, whether they are newly built pools or existing pools that need to be renovated.
They can be installed on any supporting structure: reinforced concrete, precast reinforced concrete, polystyrene formwork and prefabricated steel panels.
The SOPREMAPOOL reinforced membrane is a synthetic reinforced PVC membrane manufactured by induction with high quality raw materials (resins, plasticisers, stabilisers and pigments).
It is composed of four layers with different and complementary formulations, introducing reinforcing and perfectly centred polyester mesh between the second and third layers. This reinforcement provides the membrane with great tensile strength and high dimensional stability.
Its formulation and production process are unique in the market and have been specially designed to comply with the strict performance parameters set by the European EN 15836-2:2010 standard.
Hence its composition makes it an optimal material for pool waterproofing as it guarantees perfect watertightness (with guarantees of over ten years) while at the same time lining the pool with attractive colours and designs.
Advantages of reinforced membranes compared to other materials
Reinforced membranes have become one of the most widely used swimming pool waterproofing systems worldwide for construction and above all for swimming pool renovation due to their advantages in terms of installation and long-term performance.
As they require no formwork or drying time, their installation process is quicker and easier compared to other construction methods.
Their benefits include high resistance and durability. Reinforced membranes are highly resistant to wear, to the chemicals used to treat pool water, to UV rays, to microorganisms and to ageing.
In addition, as they are a flexible material they withstand ground movements, and this reduces the likelihood of fissures or cracks and thus extends the pool's useful life.
Their great watertightness prevents water loss due to breakage of the pool basin or joint sealing. Consequently, a pool with a reinforced membrane does not require any type of annual maintenance or repairs.
Another of the main advantages of reinforced membranes is their ability to adapt to all kinds of supports and different shapes of pools. The membrane is supplied rolled up and can be cut and welded onsite. This allows the creation of personalized pools with original shapes.
Thanks to the great variety of colours, designs and textures of the SOPREMAPOOL ranges, the appearance and look of the pool can be customized according to personal tastes and preferences. You can choose between different membranes for the floor, the wall and the steps to create unique combinations.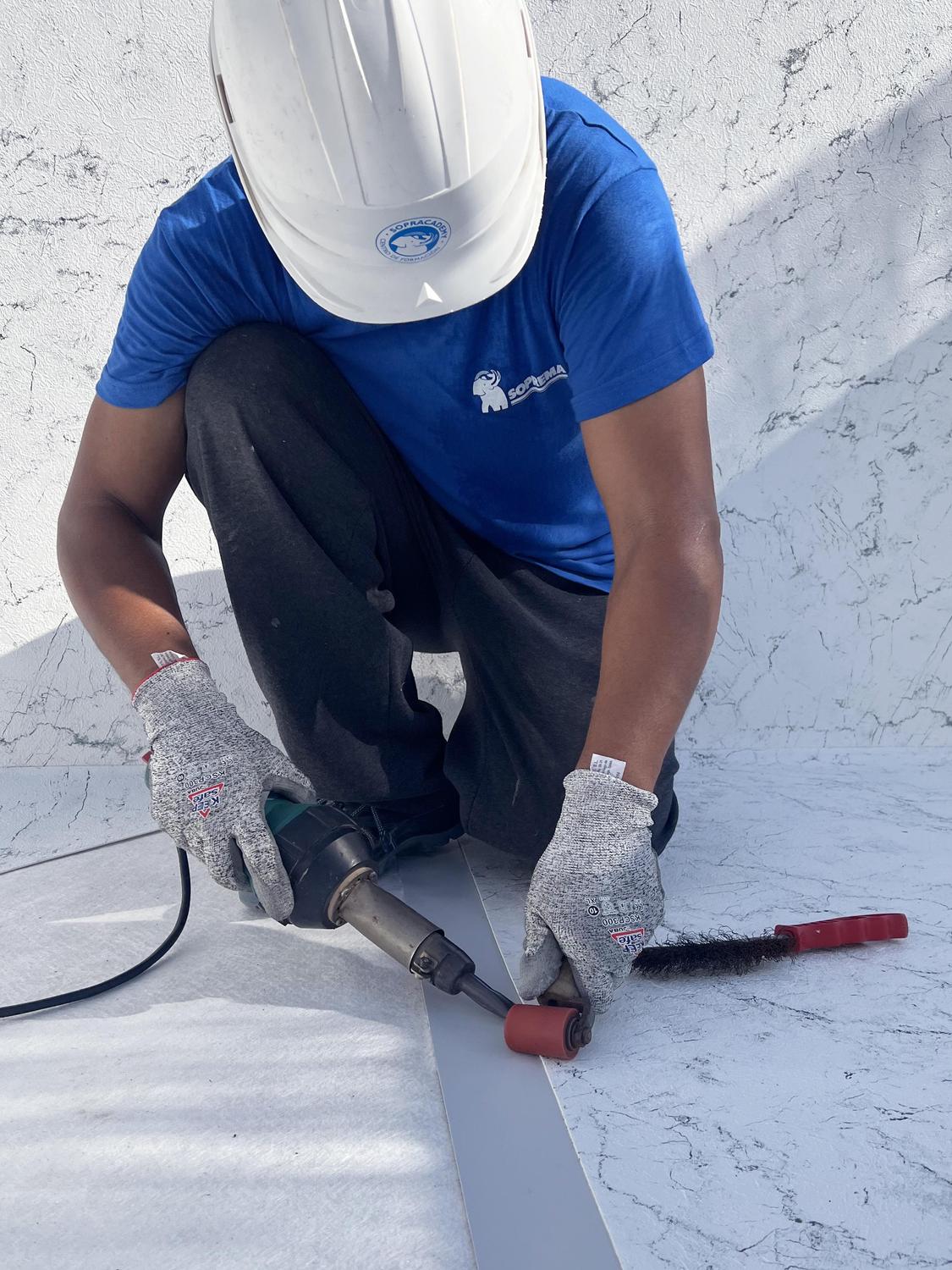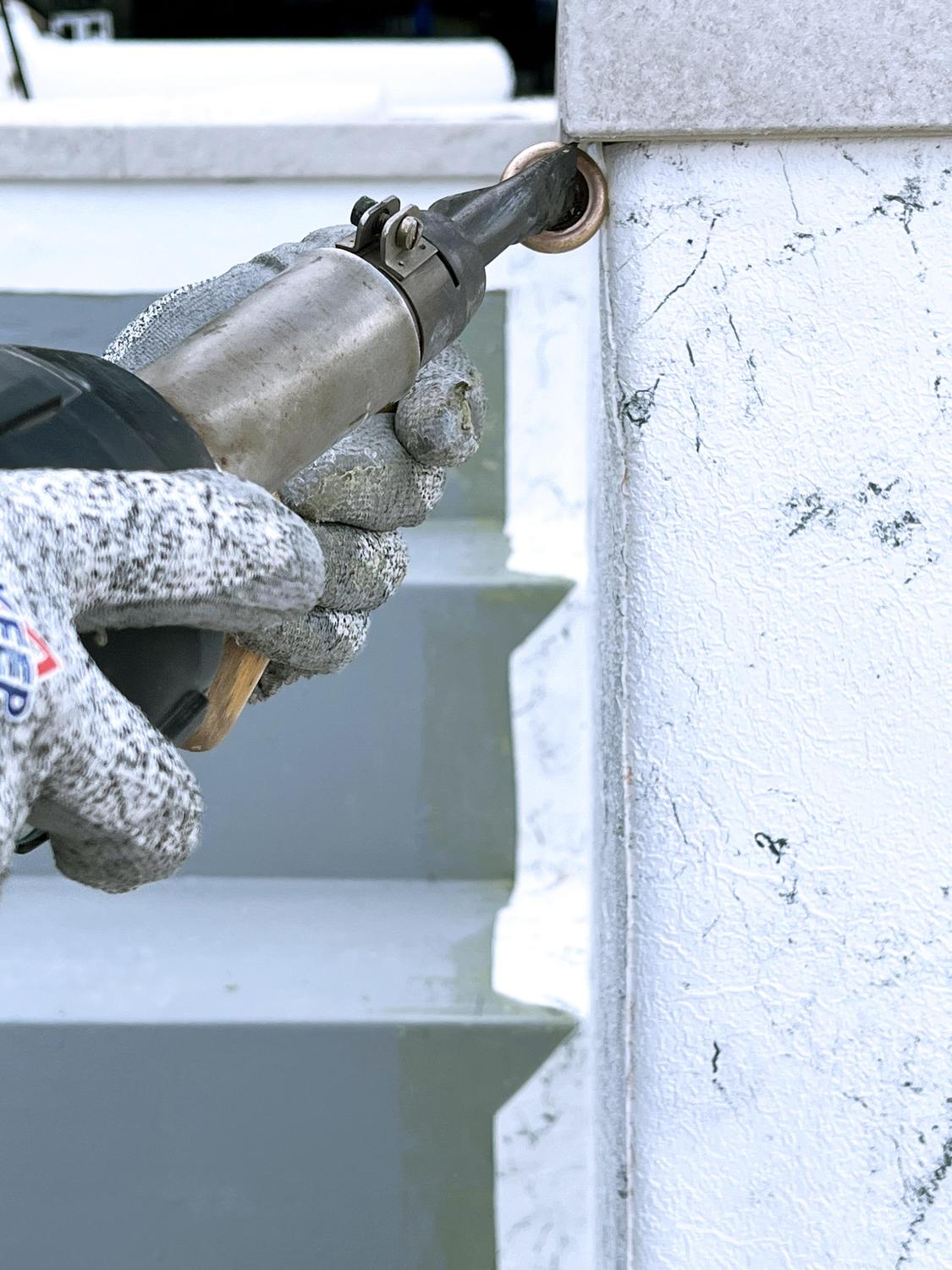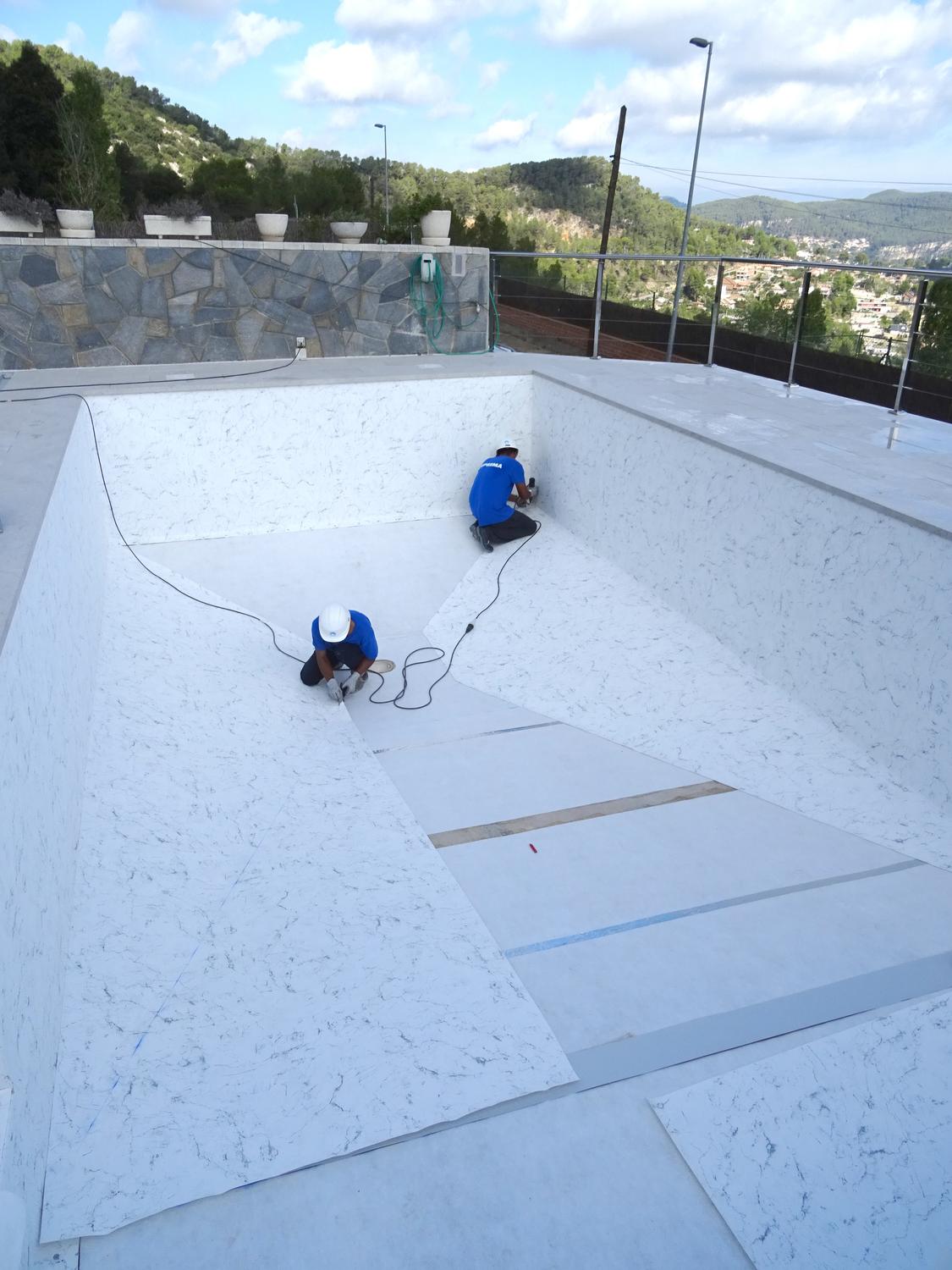 More sustainable pools
The terms swimming pool and sustainability may seem contradictory, but one of today's challenges is precisely to build swimming pools that are more environmentally-friendly. That is why it is so important to choose durable and completely waterproof materials.
The high resistance and durability of reinforced membranes makes it possible to extend the pool's useful life. Consequently, the lining will have to be replaced less frequently, avoiding waste of materials and resources. With a reinforced membrane, pathologies which might appear with other construction materials such as falling tiles or joint evaporation are avoided.
Water is a precious and scarce resource that requires us to do our bit to conserve it. This means it is essential to create systems that contribute to lower water usage. Proper waterproofing of the pool will prevent leaks and water seepage, so it will have a lower environmental impact.
In addition, pools waterproofed with a membrane do not have to be emptied every year for cleaning or performing maintenance tasks such as replacing pieces of mosaic tiling, grouting or continuous painting.
Finally, it will not be necessary to use large amounts of chemicals for water treatment, thus minimizing environmental impact.